Kinetic Labs Monochromatic Desk Setup
One of the most aesthetically pleasing desk setups you can have is a monochrome, black & white desk setup, but with all of these options on the market featuring these colorways, which one should you actually get?
PC Configuration
First things first, let's go over the actual PC. All you really need is to either go black or white for your build or a mixture of both. So you could have a black computer case with white internals or a white computer case with black internals. Either or will work it just depends on what you like more. If you don't know what computer case to go with, I personally have a "LANCOOL 216" from Lian Li which comes in both black and white. This case is perfect for looks and has great airflow so it's my top pick if you are looking for aesthetics without compromising on functionality.
Desk Pad (XXL Mouse Pad)
Marble Liquid Cloud Desk Mat
Kinetic Labs offers some pretty nice options when it comes to monochrome desk mats and mouse pads. The best option, in my opinion, would have to be the Marble Liquid Desk Mat in the air colorway. Now if you wanted the inverse of the air colorway, we also offer it in the lightning colorway which also looks just as cool as well! If you were looking for a different design, there is also the Yosemite Desk Mat in the black colorway that would fit perfectly in a monochrome setup. An honorable mention would have to be the Seal deskmat. While it isn't technically monochrome, if you were looking for something cute, this would probably be your best bet.
Mouse
Computer Mice are very subjective as everyone's hands are different and there are different ways of holding a mouse as well. Some mice are better for certain grips so it's definitely something to consider researching more about before deciding on anything. From an aesthetics point of view though, the Logitech G Pro Superlight has been a very popular choice for many not only because of its super clean design, but also because of its lightweight as well. Now I wouldn't recommend this mouse to everyone as the shape is a bit on the taller end of the spectrum and was even a bit too tall for me, so like I mentioned earlier I highly recommend figuring out what shape works best for you before making any decisions on what mouse to purchase.
Keyboard Kit
TG67 V2 with BoW PBT Keycaps and Marble Liquid Lightning Desk Mat
When it comes to the actual mechanical keyboard kit, you have a lot of options to choose from since most companies offer their kits in black and white, but here are some of my favorite offerings.
Budget Options
If you are on a budget, but still want a great kit for the price, check out the Tiger Lite TKL. We offer it both steel grey and black so either color option would fit your monochrome setup. Another great budget option for those who don't want a TKL layout would be the Keychron V2 which is a sub $100 65% mechanical keyboard. An honorable mention would have to be the very popular GMK 67 keyboard kit. It is well known for being "The Best Budget Keyboard Kit" in the community and this is for a good reason. It features a volume knob, polycarbonate plate, south-facing PCB, and case/plate foam with some pretty decent stabilizers as well all for the low price of around $60.
Midrange to High-end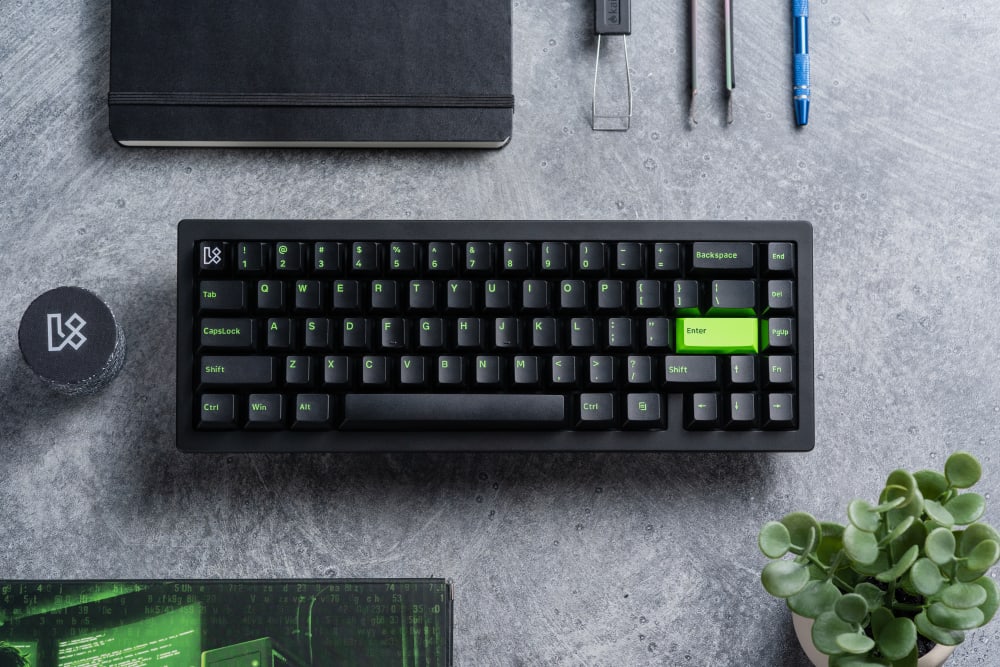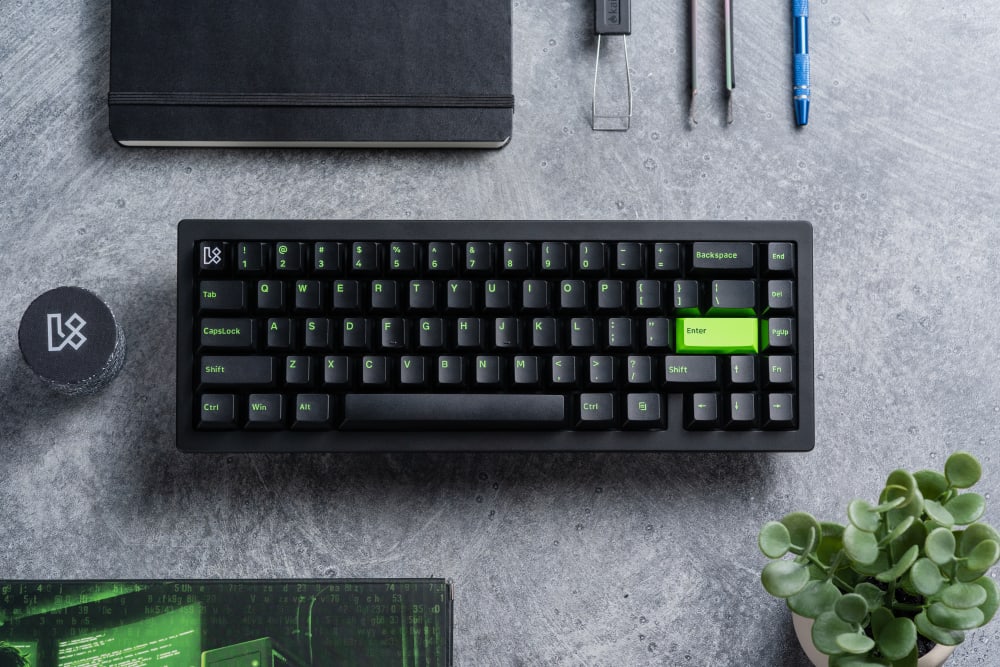 TG67 Mechanical Keyboard
If you have a bigger budget, pretty much any Keychron keyboard comes in black white, or silver, so it honestly just depends on what layout you are looking for. Of course, my top pick would have to be our very own Kinetic Labs TG67 mechanical keyboard. The V2 variant is currently out of stock, but don't worry because the V3 variant is just around the corner and features a lot of upgrades over its predecessor.
Switches
Now technically switches don't really have to fit the color scheme as you won't see them anyways, but if you are like me and want everything to be color-matching here are a few of my favorites.
Kinetic Labs Moon V2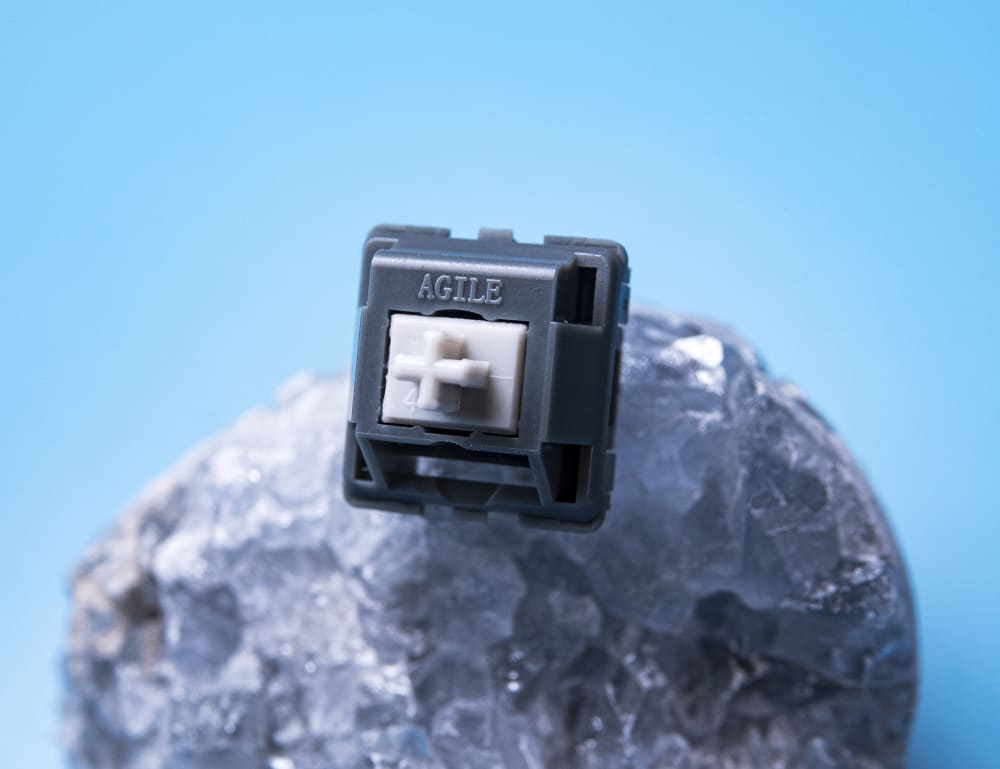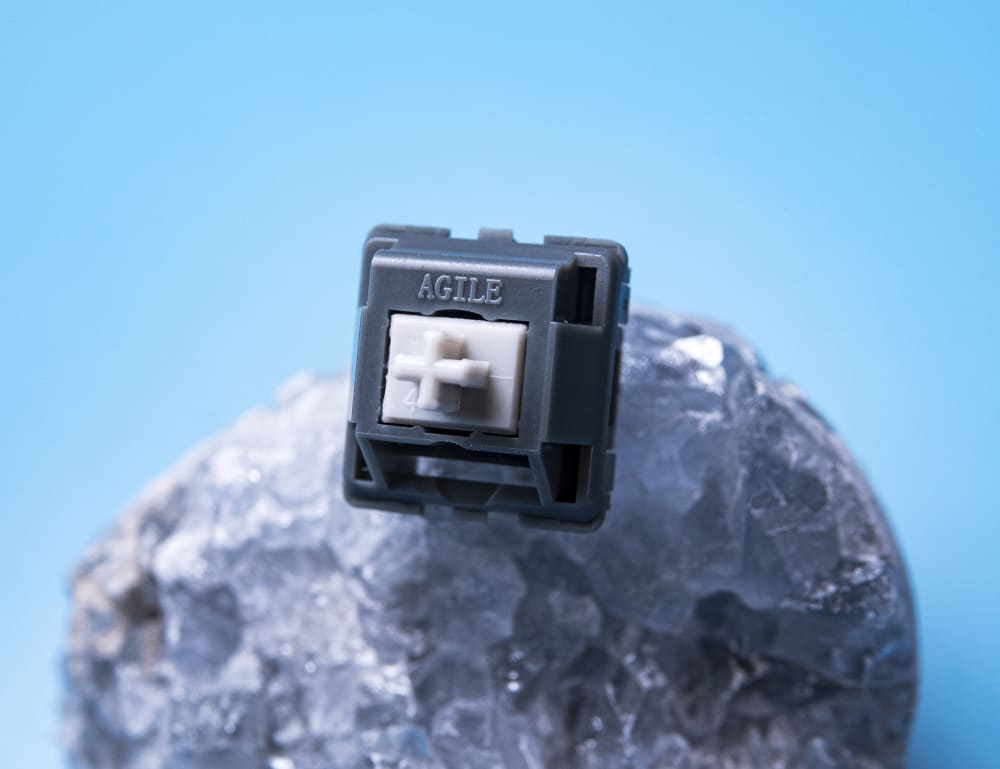 Moon V2 Linear Switches
The Kinetic Labs Moon V2 switches are great for people who want a smooth typing experience right out of the box as they feature a great factory lube job, and since I hate lubing switches, this would be my go-to. The weight is pretty average and they are a solid linear switch that I pretty much have no complaints about. The sound profile out of these is very muted though, and a bit on the quieter side, so if that's not something you want in your keyboard, then maybe some of the other switches on this list would be better for you.
Gateron Box Ink V2
Gateron Box Ink V2 Switches
The Gateron Box Ink V2's feature a semi-translucent top and bottom housing which looks pretty cool, but besides the looks, these are very well known to provide a deep or thocky sound signature, but you will only really get that sound profile after they have been lubed. If you don't lube them, their stock performance is a bit underwhelming as they are pretty scratchy and have some ping to them, so I would definitely recommend only getting these if you are willing to spend the time to lube them. The payoff is definitely worth it though as they sound just as nice as they feel and have been a very popular pick for quite a while now because of it.
Gateron Oil Kings
Gateron Oil King Switches
Gateron Oil Kings haven't really been out for a long time, but when they first got announced, the hype was definitely real. A lot of people were very interested in trying out this switch due to its great out-of-the-box performance. I would say these are similar in a sense to the Gateron Box Ink or Ink Blacks as they also provide a deep sound signature, but what makes them stand out is their factory lube job. These can be pretty much used right out of the box and don't require you to lube them to get that nice and thocky sound signature.
There are definitely plenty of more switch options to choose from than just these three so feel free to search around and find what best fits what you like in a switch so you can get the most enjoyment out of your mechanical keyboard.
Keycaps
Seal PBT Keycaps V3
Keycaps are pretty easy as you could easily just get a set of BoW or WoB keycaps to fit that monochrome setup we are going for, but if you wanted something a bit different, I think Kinetic Labs Seal PBT keycaps would work perfectly. Now if you did want some sort of a color pop we also have plenty of options for that as well. If you are a fan of the color green, check out the Code PBT keycap set that features very vibrant accent keys that will definitely make your keyboard pop. We also have sets like Hacker Mint PBT and Dolche Blue as well to add a bit of color to your setup. If you wanted to go for more of a blackout keyboard build, I would definitely recommend checking out the WS Cthulhu PBT Keycap Set as it features black keycaps with black legends!
Monochrome setups can look super nice when done correctly and I hope my recommendations can help you decide on what to look for when creating your setup! Definitely feel free to do even more research as everything I talked about today barely scratched the surface as to what is available that fits this color scheme.