Kinetic Labs Penguin Tactile Switches
I'll come right out and say it: you're hurting your custom mechanical keyboard experience by not trying more switches. Shocking take from me, the goat who hoards switches by the thousands, I know. All self-aware irony aside, I genuinely do think that the community as a whole has an endemic issue of people seeking the shortest, quickest, and most direct answers when planning out their next keyboard build. Every day, streamer's twitch chats, the r/mechanicalkeyboard subreddit question threads, and Discord servers all over the place are inundated with people seeking "the most x" type of switch or for switches that sound "the most y" out of all of them.
In this pursuit of superlative switches, these people not only miss out on some of the finer joys in discovering new switches nobody else seems to be talking about, but they also miss out on building up their own mental library of experiences and interests. As someone who has spent literally every day of their life over the past half decade messing with switches, even to this day I still can be surprised by new manufacturers, designs, or material blends, and seeing people not even take one step on that journey in switch exploration is upsetting. So, here's the briefest, easiest set of reasons why you're missing out by only sticking to the most established, popular brands of switches.
Not a single Durock/JWK, Tecsee, Gateron, or Kailh in sight...
Newer Brands Innovate More
Examples of switches from lesser-known brands including Haimu Betty, Leobog Juggle, and LICHICX Lucy.
While almost all mechanical keyboard switch manufacturers nowadays are fairly new compared to the complete history of the hobby as a whole, there are still brands within this new subset which have yet to catch the same limelight as new brands such as Durock/JWK and Tecsee. Often discovered by flipping through endless pages of Taobao. Aliexpress, or ZFrontier, every now and then new and unproven manufacturers will pop up in western storefronts and make their debut to this half of the world. Just in the past year or so alone, brands such as LICHICX, Leobog, and Haimu have all made their debuts with western audiences, each boasting a unique design quirk to their releases that more established switches simply don't have yet.
Even though larger manufacturers such as Tecsee have adopted long stem poles, and Durock/JWK have adapted large LED light condensers and mixed, mystery material housings, these smaller and newer manufacturers are further developing upon these ideas faster and more efficiently than the larger ones. By not exploring new manufacturers and brands when they pop up on your favorite vendor's website, you risk missing out on the "next big thing" in switches. The longest stem poles, multistage springs, mysterious housing material blends, alternative silencing mechanisms, unique tactile bumps, and even more design quirks are all things you'd be late to the party on by not trying unknown brands first.
The Most Interesting Switches Don't Live Long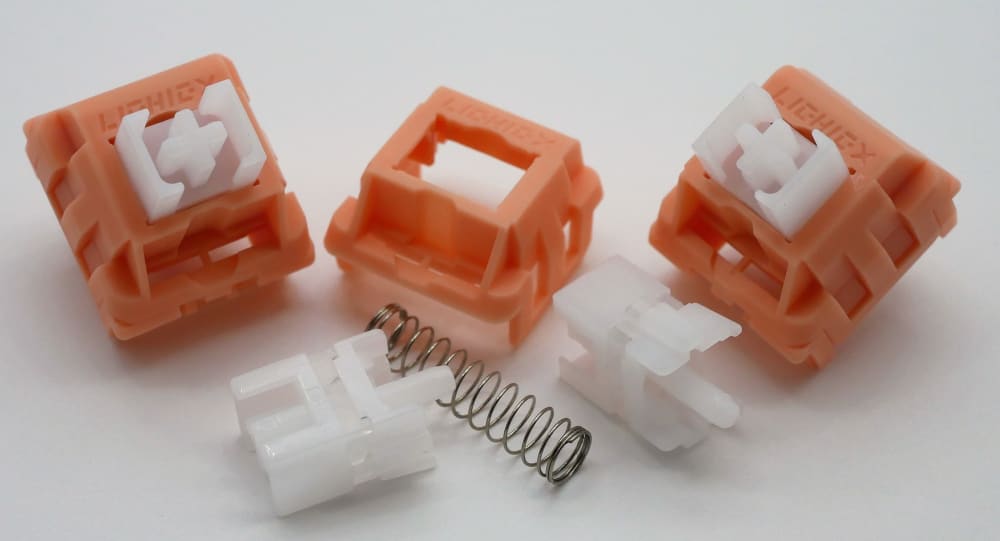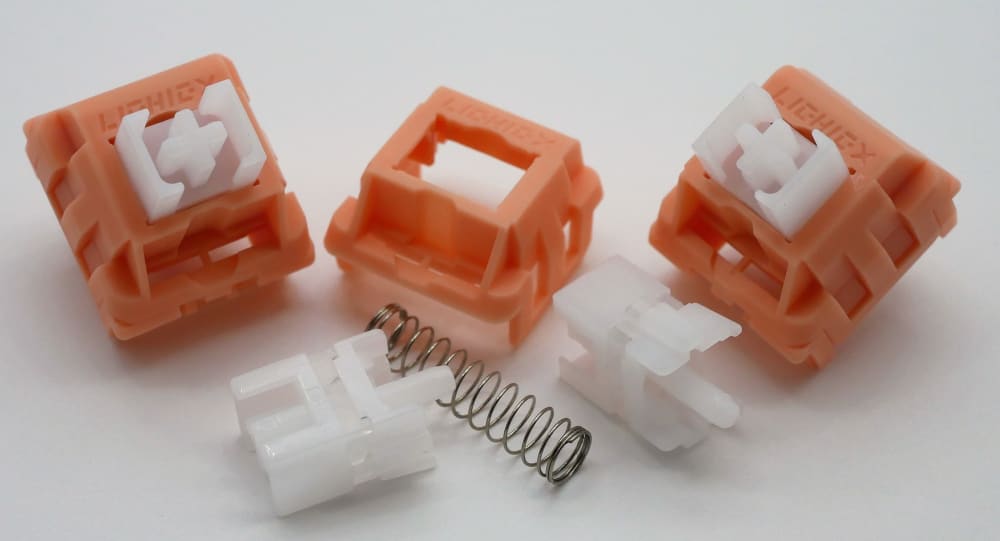 LCHICX-made HAPE Orange switches. Only 10,000 ever were made and their innovative silencing mechanism helped propel LICHICHX's brand popularity sky high.
As a chronic collector and reviewer of switches, myself, one of the biggest things I've come to hate is how often I've discovered incredibly well designed, unique, and interesting performing switches after they're no longer able to be found online. Given that new, smaller manufacturers are much more willing to be versatile with their production, smaller batches of these innovative and quirky switches are often released only remain for sale for weeks, rather than the months or even years that some more established brands like Gateron and Kailh have all conditioned us to become used to. While one could easily point to this as being a 'FOMO' style marketing tactic by these brands aimed at driving people like me to spend more and more on switches, in my experience I've always seen it more as these brands 'testing the waters' instead.
Admittedly, at first it can be hard to figure out if switches will be around long and more importantly if they're worth your time and money. However, with practice, trying out more switches, and building out that mental library of switch knowledge, in time you'll be able to have a pretty good idea of when some new, barely named switches you find on AliExpress are worth buying a whole board's worth of. You'd be surprised how often you can strike gold and find your new, most favorite set of switches, only to turn around and find out they'll never be produced again.
Newer Brands are Cheaper
It's still really hard to beat the bang for buck that KTT provides.
Yes, I am well aware that well established manufacturers such as Gateron and Kailh can charge a premium for their switches because most of them that are produced nowadays are basically perfectly usable straight out of the box. On the flip side of that, cheaper switches are often ones which require some amount of aftermarket care, thought, or effort to be put into them in order to bring them up near the performance of level of those premium offerings. Short of hitting the jackpot with a lucky find like I alluded to above, this is a very real part of buying switches with untested design features, but the price savings are more than worth this gamble. While some brands establish themselves and their prices rather quickly, its not uncommon to find newer, unproven switches between $0.25 and $0.40 per switch, which can be anywhere from one half to even one third the price of premium offerings you recognize by name.
If you're already thinking about modifying your switches for your latest build as well, this price difference is even more so a no-brainer, as you can make $0.25 switches as good as $0.80 switches while pocketing a ton of saved cash in the process. If you're already slipping into the rabbit hole of trying as many switch types as you can, like myself, the cost-effective nature of newer brands even further helps the cause by letting you try two or even three sets of 100 switches at the same price point as one full board's worth of more established, premium offerings.
All things considered, I'm aware that not everyone is a part of the mechanical keyboard hobby to spend money on trying out new, potentially not enjoyable options. Some people just want a one and done answer to their keyboard build and will shell out as little cash as possible to get directly to that answer. However, this community was built on principles of exploration, customization, and experimentation, and I think that we are sorely lacking on these points in the modern mechanical keyboard scene. Even if you only buy one random set of switches a year from a manufacturer you've never heard of, I promise you'll be surprised at how much they can expand your horizons and further strengthen your understanding of what you like in the keyboard builds you have. But you've got to be willing to step outside of that comfort zone to try.